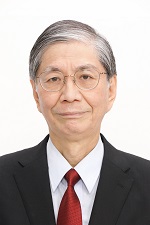 Since I was appointed president of the APPIE in May 2022, I have worked diligently to advance and promote powder technology. I would like to express my deep appreciation to all of you for your generous cooperation in our association's activities.
Powder handling is an important technology used in a wide range of applications from familiar products to large-scale industries such as food, medicine, materials, and energy. Flour, powdered chemicals, coffee mills, and PM2.5 control technologies for the environmental protection are just a few examples of the innumerable issue involving powders. However, many people, even those who actually use powders, have never been aware of the terms powder technology or powder engineering. In the powder handling, there are many areas that can be improved by learning about various powder technologies. APPIE celebrated its 50th anniversary in 2021. Over the past half century, we have contributed to the advancement of powder technology by providing the latest information on powder technology and by actively exchanging of opinions among related engineers and researchers. In particular, we are involved in an extremely diverse range of activities, including POWTEX TOKYO and OSAKA, numerous education courses and seminars, and surveys of the latest technologies conducted by technical committees for various regions of powder technologies. We hope that you will take advantage of the various information provided by APPIE and use powders more conveniently and wisely.
Since 2020, many social activities, not only those of the Association, have been restricted by the effects of COVID-19, but in the last fiscal year we have been able to work quite energetically through various measures based on our experiences over the past two years. At POWTEX 2022 in Tokyo, we have made it possible to offer events that satisfy many people, such as the implementation of a hybrid event using both onsite and online exhibitions, which was adopted from POWTEX 2021 in Osaka, and the expansion of various online training coursed and seminars. In addition to online seminars, in each technical sub-committee meeting, most of the projects can now be conducted with content similar to that before COVID-19 pandemic, such as facility tours with sufficient consideration given to infection prevention.
This year, in addition to further revitalizing POWTEX in Osaka, which will be held as a hybrid event for the third time, we will also expand face-to-face lectures in training courses and seminars depending on the content and effectively combine them with online seminars to provide services that will satisfy many people even more.
Powder technology is a wonderful technology that can also make a significant contribution to activities to build a sustainable society, which is the most important global subjects for the future. We look forward to working together with you to utilize the most of our powder technology.