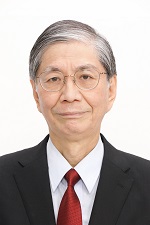 I am pleased to announce that I have been appointed the president of the Association of Powder Process Industry and Engineering, JAPAN (APPIE) from this fiscal year by the deliberations at the 41st Annual meeting and the 2nd Board meeting in FY 2022 held on the same day. I am determined to do my utmost to advance and promote powder technology. I would appreciate your guidance and encouragement.
Powder handling is an important technology used in a wide range of applications from familiar products to large-scale industries such as food, medicine, materials, and energy. Flour, powdered chemicals, coffee mills, and PM2.5 countermeasures of the environmental issue are just a few examples of the endless phenomena involving powders. However, many people, even those who actually use powders, have never been aware of the terms powder technology or powder engineering. In the powder handling, there are many areas that can be improved by learning about various powder technologies. APPIE celebrated its 50th anniversary in 2021. Over the past half century, we have contributed to the advancement of powder technology by providing the latest information on powder technology and by actively exchanging of opinions among related engineers and researchers. In particular, we are involved in an extremely diverse range of activities, including POWTEX TOKYO and OSAKA, numerous education courses and seminars, and surveys of the latest technologies conducted by technical groups for various types of powder technologies. We hope that you will take advantage of the various information provided by APPIE and use powders more conveniently and wisely.
Since 2020, many social activities, not only the activities of APPIE, have been restricted due to the impact of COVID-19. Under these restrictions, APPIE has devised ways to make its activities as valuable as possible through the experience in the past two years. We have made improvements to satisfy the needs of many people even in COVID-19 disaster, such as the implementation of a hybrid exhibition of POWTEX OSAKA combining an onsite and online event in 2021, and the expansion of various online seminars and training courses. In addition to online seminars, each technical group has gradually become able to implement projects with content similar to that before COVID-19 pandemic, such as facility tours with sufficient consideration given to infection prevention.
This year, we will continue to provide services that will please many people by holding a hybrid exhibition, POWTEX TOKYO, and online training courses and seminars, while appropriately monitoring the situation of COVID-19 infection.
Powder technology is a wonderful technology that can make a significant contribution to activities for building a sustainable society, which is the most important issue of our time. We look forward to working together with you to make the most of our powder technology.